One Nonprofit is Working to Prevent This Avoidable Loss of Vision For People in Developing Countries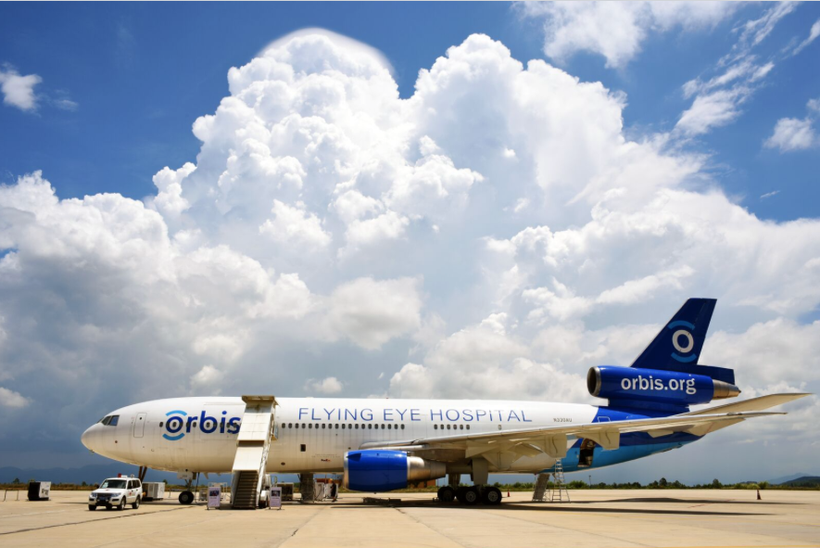 November is National Diabetes Month, and while so many of us know and understand complications related to the disease here in the US, there are many hidden costs to the disease that we don't normally see. For example, many people, especially young children, actually go blind from a condition related to diabetes called diabetic retinopathy.
Globally, more than 422 million people have diabetes, and after having diabetes for 20 years, nearly all people with Type 1 diabetes and more than 60% of people with Type 2 diabetes develop retinopathy. Diabetic retinopathy is treatable if it's caught early, and those with diabetes should have yearly eye exams. Here in the United States, it's treatable via laser surgery, however, most of the 422 million people around the world don't have access to that kind of eye health care.
There is one organization working to combat this, however. The international nonprofit, Orbis, works around the world in developing countries fighting avoidable blindness and have powerful stories of Volunteer Faculty members (doctors who volunteer their time to travel around the world and set up sustainable eye healthcare systems) saving people's eyesight and thus providing them a new lease on life.
In Bangladesh, for example, 2.5 million adults are at risk for developing diabetic retinopathy – the country only has 950 ophthalmologists to serve their population of 160 million people. Orbis is training doctors in remote areas of Bangladesh via an innovative telemedicine platform called Cybersight. Doctors can watch eye surgeries in real time and ask questions. Additionally, each year, Orbis' Flying Eye Hospital visits dozens of countries to provide on the ground services including eye exams and surgeries.
I was able to speak with one of the volunteer doctors, Dr. Pravin Dugel who has traveled with on these types of sight-saving programs, and also Dr. Danny Haddad, Chief of Programs at Orbis, to understand more about this work and the impact they're having in under-resourced communities around the world dealing with the effects of diabetic retinopathy and other vision-affecting conditions we don't talk nearly enough about here at home.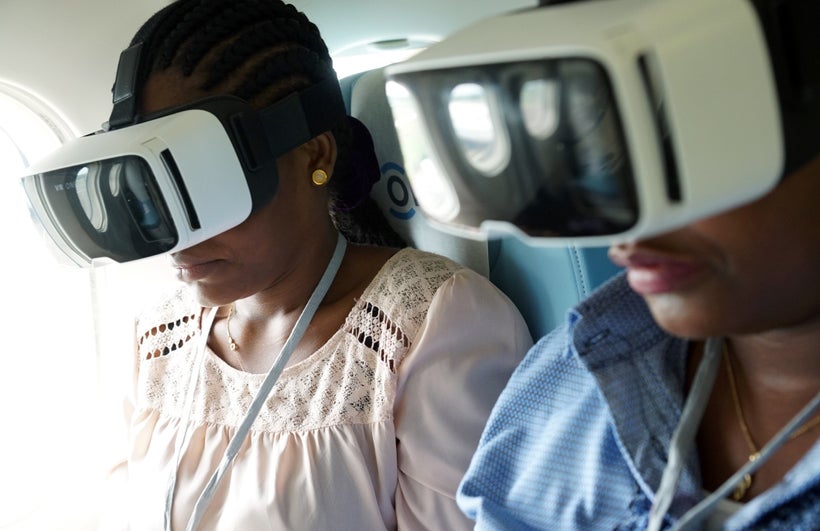 From Orbis Volunteer Faculty Member
Tell us about the work you do with Orbis. 
I've been involved with Orbis for over 15 years as a member of their Volunteer Faculty, specializing in retinal diseases including diabetic retinopathy. Right from the beginning, I realized that the sight saving work that Orbis does is not just about doing, but about teaching. It's the 'teach a man to fish' philosophy.  What impressed me about Orbis was the Flying Eye Hospital, the collegiality of the team and most importantly the integration of teaching at every level; not just local doctors, but technicians, nurses, and providers at all levels.
How does, or could, having diabetes affect your eyesight? 
Diabetes is a disease of the blood vessels which affects your whole body.  If the blood vessels in your eye are damaged, you can go blind in a couple of different ways, either due to the protein leaking out of the blood vessels which causes swelling in the back of eye or because of the scar tissue that is created due to bleeding which causes the retina to detach.
One of the earliest signs of diabetes can be seen by looking at the retina. Unlike other internal organs such as lungs and kidneys, you can see the changes by looking directly at the retina. If diabetes can be diagnosed by looking at the eye, the chances of catching it early and treating it are higher.  This is why screening for diabetic retinopathy is so important.
Why is early detection of this condition so necessary? 
It's very important to discover diabetic retinopathy early so it can be treated.  The earlier the better. This is part of the education that Orbis provides in the countries where they work.
Blindness caused by diabetic retinopathy is almost entirely preventable, if you catch it early.  You don't need expensive devices to detect it in the early stages, it just requires an exam and a trained examiner.  When we start seeing abnormal changes in the retina, we can intervene at that time. We don't want to wait for vision to be lost. Unfortunately, patients often come for treatment after their vision has been lost, and depending on how much damage has been done, we may or may not be able to restore their sight. This is why screening and early detection is critical.
Can you share with us a powerful story of your recent travel and work with Orbis that would help readers really understand the organizations – and your – impact? 
When I was working in Kolkata with Orbis, one of the patients that came to the local partner hospital for screening was a woman who had complications from diabetes, and was begging in the streets. I learned that she had previously worked on a farm but her husband had passed away and she was left with no money.  She had blood in both eyes and couldn't see. She was selected for surgery as a teaching case, and I removed the blood from the back of her eye in a relatively simple 15 minute procedure. A few days later, after spending years being blind and begging in the streets she was able to go back to work.
At Susrut Hospital in India, the Orbis program taught the community doctors techniques that were so successful that the hospital started a development program to serve as a center for teaching.  Surgeons from all over India who want more training spend a week there and learn the latest techniques. I've taught there 5 or 6 times since.  The training lives on in a sustainable way … that is the Orbis mission that has been accomplished!
Why don't other communities and countries have the same types of eye health care resources that we do here in the US? 
It comes down to infrastructure and resources.   Developing the skills needed, including screening, is not currently possible in many places.  It starts with education, and allocation of resources that justify the importance of preventing people from being blind. The cost of sustaining someone who is blind is enormous.  There is a human cost and an economic cost.  Most heartbreaking of all, over 99% of blindness due to diabetes is preventable.  The key is to catch the disease early.
Is there anything else you'd like to add on your and Orbis' work and this issue? 
Some NGOs in this field focus on volume. Orbis's mission is based on leaving something sustainable behind from teaching. Treating the whole patient requires a super village. Orbis is the only organization that I know that is equipped to do this, especially for diabetic retinopathy. The challenge is huge but the opportunity is even greater. Diabetes is a systemic problem, you need to treat the entire patient not just the eye.  You have to integrate all the other sub-specialties.  We have an epidemic that is debilitating and killing people who have the least amount of resources. Diabetes is cruel and has an enormous impact on human life and wellbeing.  Orbis is in a position to make a monumental impact and rise to this challenge through education.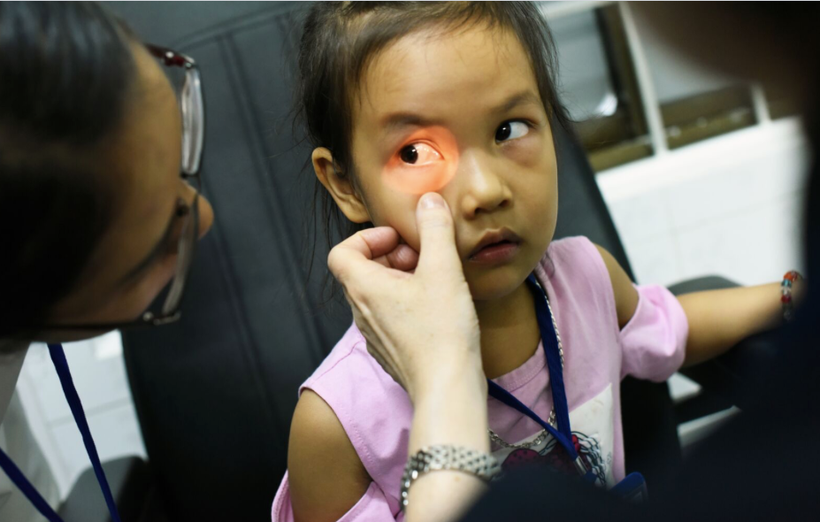 From Orbis Spokesperson
Danny Haddad, M.D., Chief of Programs, Orbis
How does setting up sustainable eye health care systems in other countries work? 
At Orbis, we work with partners across the health service to establish and strengthen existing eye health care systems. We work with local hospitals and our teams of expert volunteers to train doctors, nurses and biomedical engineers – the whole team – so that a wide range of conditions can be treated with the best quality possible. The aim is for our local partners to provide long-term, sustainable eye care to their people after we've left.
How does Orbis ensure resources are provided to do this? 
We spend time working with our local partners to identify what training and resources are most needed and develop customized training programs. We carefully select the appropriate volunteer faculty to ensure that their skill sets and specialty areas match the need.
How do you determine which doctors and Volunteer Faculty members Orbis works with?  
We are fortunate to have an incredible pool of over 400 Volunteer Faculty members from all over the world – ophthalmologists, nurses, anesthesiologists and biomedical engineers from over 30 countries.  They dedicate their time and skills to train local teams and help improve the level of eye care in the countries where we work.  They are specially selected, not only for their high level of technical expertise, but they must also be good teachers. They can often be faced with challenging environments to work in so the need to be adaptable is very important as well.
How can readers learn more about Orbis and maybe even get involved themselves? 
We rely on the support of remarkable individuals and corporations to carry out our work and advance our vision to eliminate avoidable blindness. Please visit our website orbis.org to find out more.
Posted in: Uncategorized